When you create a Mobile App that represents your enterprise, there are a few essential things to consider that ensure a professionally dynamic Application-one that doesn't fail and that brings in a constant inflow of business and acquisition. Casual App developers may or may not embed these ethics in their work but for a company, they just cannot be done away with.
Aim to achieve uninterrupted delivery of the application
Keep your development cycles short and frequent and revise every version each time keeping in mind newly arriving platforms. Moving to the Dev Ops method speeds up both development as well as deployment. Swiftness in terms of adapting to customer needs is the key to making a good enterprise application. Being in tune with the rapidly developing world of Mobile Applications will allow a company to obtain more opportunities.
Unstable platforms
App builders that help build Apps for various platforms have their own limitations. This has allowed enterprises the opportunity to invest in and institutionalize a strategy for it. But there is yet to be a platform for custom App development. Since enterprises lack the skills to develop complex options, it would be much better to outsource the task to digital development companies.
Design best practices and policies for your company
For every department, provide access to their specific information and applications. Develop security procedures. Acknowledge data usage and access regulations of your country. Understand your data usage, regulatory, and compliance requirements. With all this in place, you can successfully draft the Enterprise Mobility and BYOD policy framework for your company.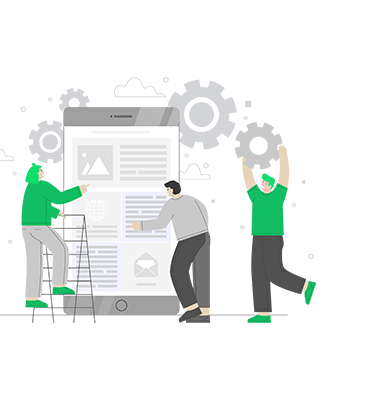 Get Your Dream Website Today!

Whether you want a business website or you want to re-design your existing website, we will astonish you with our service.


Top-notch Application experience
Make a Mobile App that has a great look and feel, is spontaneous, available, and provides the right content. Whether they connect with the back-end, provide a secure single sign-on, or are role-based, every single factor needs to be considered.
Your App is not your strategy
Some companies make the mistake of thinking that by having one App they have successfully ticked off the Mobile checklist. Never underestimate the power of Mobile technology. Picture the benefits of Mobile to your company's overall growth. By determining how Mobile Applications can help increase the revenue you can create many new and innovative ideas for your App. At this point develop your strategy.
Shift your company's focus from just downloads to engagement
Mobile technology begins with designing the App and achieving downloads. But merely having downloads doesn't make an App successful. As the number of downloads increase, so should customer engagement. The developers must work together with end-users during design to understand what features are most useful. Test software improves performance and analytics to calculate adoption and engagement. Analytics must be integrated to understand user experience. During initial design and deployment, analytics and testing must be carried out to identify data issues and the functioning of the App. Analytics include crash reporting, flow visualization, session length, use frequency, device type, location, and retention.